ANNEX
HOTEL CHANGTEE TOKYO ANNEX

HOTEL TEL:

+81-3-3989-8868


E-MAIL:

grandhouse@yahoo.com

※47 rooms
※All rooms are equipped with their own bathroom,
 internet and basic furnishings.
Room list
Information
Please contact our main hotel when you want to make a reservation at the Hotel Changtee Annex.
To hold a room reservation, patrons must provide credit card information.
When making a reservation by e-mail, telephone, or fax, please provide the credit card holder's name, number and expiration date. We accept both Visa and Mastercard.
Our cancellation policy asks that patrons give one week notice prior to the date(s) of the reservation in order to avoid incurring the cancellation fee. The cancellation fee is the cost of one night's stay and will be charged to the holder of the credit card under which the reservation was made.
The service and equipment in the Hotel Changtee Annex are different from that within the main hotel. Please contact us if you need further information.
We also accept long-term stays in the Hotel Changtee Annex.
We are in accordance with Japanese architecture Fire Service Law regulation.
Access from Komagome Station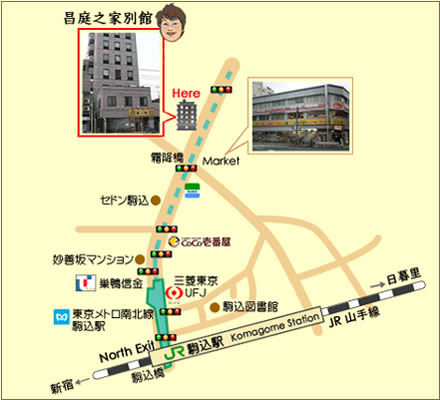 From International Airports
From Narita International Airport

You can take the SKY LINER located on the 2nd floor of the Narita Airport. Reservations are required. Or you can take the KEISEI line.
However, travel time is 10 minutes longer vs. via the SKY LINER, but it is cheaper.
Please check out the KEISEI line HP to confirm pricing.
Narita Express
Keisei Electric Railway
Rimujin Bus
From Haneda International Airport